Archive for pink for october
Its October again and that means websites and twitter profiles around the globe are going pink in support of Breast Cancer awareness (including mine). Its not too late to get involved – and you don't have to turn your website pink to do it – how about a pink Twitter background or give your avatar a pink sheen. For the past few years I have turned my site pink and highlighted some of my favorite Pink for October sites. Below are 13 fabulous websites that have already gone pink. There is also my list from last year – 13 more beautiful Pink for October site designs to go with my 13 favorite pink themes from 2007. Plenty of inspirational designs and stories, too!
Let's start by showcasing the primary Pink for October website, designed by the INCREDIBLY talented Natalie Jost. So creative, so clean and easy to navigate, too.
The team at 525creative have created one of my favorite Pink for October designs so far. I love the clean lines, the use of different pink shades and their introductory text showing their support for Breast Cancer Awareness Month.
I love that so many men are showing their support of Breast Cancer Awareness and that they are using their pink so creatively! For Dan Rose, the pink works great for his portfolio site!
Adventures in Motherhood is the personal blog of the very talented Shazia Mistry. She always comes up with something fun for Pink for October and this year is no different. Fabulous.
Totally creative. Totally fun. How could you not want to at least think about hiring that Fred?
Natalie Jost designed this year's Pink for October site (see top) and has designed some of the most beautiful P4O themes and designs over the years. Her own site went pink for October too – complete with a random header design so you don't know which piece of pink goodness you might get!
Sometimes less is more. I love the subtle use of pink in the design for Without Words. Just perfect.
Designer Jim Renaud really thought out every detail of his Pink for October transformation. The pink stocking cap is the best! Great work Jim!
Dani launched a new design for Anidan Designs recently and while I doubt it was created specifically for Pink for October, the use of pink is gorgeous in this very bold design. Always good design from Dani – she is another one of my favorite designers.
Kristy's blog, Good Like a Medicine got a super sweet pink update specifically for Breast Cancer Awareness Month.
Stupifier, a digital design company, went for shocking, bold shades of pink for their October look. Interestingly enough, the entire site is a single page with navigation that takes you to anchors within the code.
Dean Robinson opted for the very low key, keep it simple and easy on the eyes pink transformation this year. Very nice.
Rose colored glasses anyone? Bainbridge Studios did just that with their rosy P4O makeover. Is this a trend – another single paged portfolio site?
Which one is your favorite? If you or someone you know goes Pink for October, leave me a comment! If there are enough new designs I will post a follow up and spotlight even more pink designs.
Its October again and just a few days into the month more than 500 websites have gone pink in support of Breast Cancer awareness (including two of mine). Its not too late to get involved – and you don't have to turn your website pink to do it – how about a pink Twitter background or give your avatar a pink sheen. If you are looking for pink inspiration, here are 13 more beautiful Pink for October site designs to go with my 13 favorite pink themes from last year.
Diary of a Website did the design for the main Pink for October site this year and used the same theme for her site. Very nice!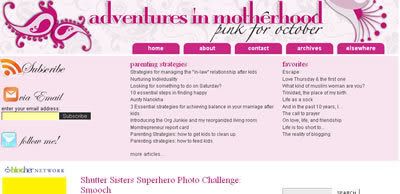 A little paisley and a little pink makes Adventures in Motherhood very eye pleasing.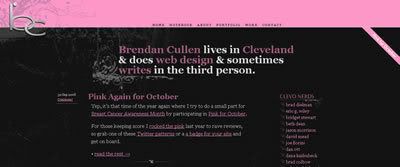 Brendan Cullen does a nice job with the black and pink – I like how the footer is tied into the design as well.
I love the combination of the vertical stripes and the simple layout on the interior of SourceWave.net.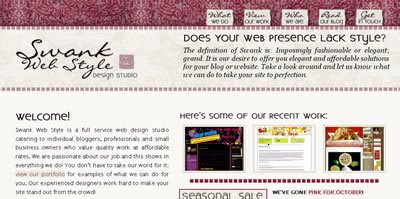 Swank Web Style always has something fun in the works – including their Pink for October look.

I love this shade of magenta! Blissfully Aware takes pink to the extreme.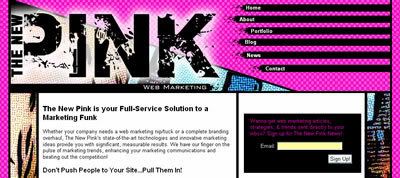 Retro comic book funk is the best description for The New Pink – love it!
Anidan Design takes a very minimalistic approach that really works!
A little bit of sass and professionalism rolled in to one gives MarnieB my vote.
ScribbleScratch made my favorites list last year and has a new design this time around – she also has quite a few pink WordPress themes available for download.
Bonita in Pink has done an amazing job of customizing my favorite Adii theme. Very striking!!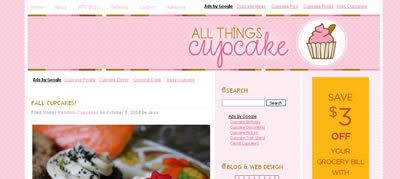 Who can resist a cupcake? This is one of Scribble Scratch's yummy designs.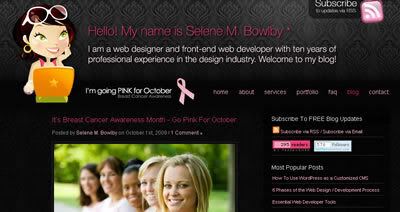 One of my design pals, Selene of iDesignStudios, gave her normally pink design an extra bit of punch for October.
If you have a favorite Pink for October design, please take a minute and share it with us. Or let us know which of these designs you happen to love. Thanks to all the designers for taking time to support a great cause by sharing your creativity and voice with all of us.
Each October websites across the world go pink in support of a very good cause – Breast Cancer research.  Last year approximately 800 sites registered their pinkness with Pink for October. With October just around the corner, have you given any thought to going pink? Check out my 13 favorite Pink for October designs from last year if you need any inspiration.
My personal site went pink last year and will do the same this year, but as I roll out a new look for Essential Keystrokes over the next few weeks, it just may have some pink attitude as well.
On a related note, another big blogging meets a good cause event in October is Blog Action Day, which already has more than 4,000 blogs committed to help raise awareness about Poverty across the world. Last year's event focused on going green for the environment was a huge success (read my 5 Rs for a Greener World entry) with more than 15,000 blogs participating.
As October gets closer, consider using your voice to help support both of these very worthwhile events.